The Hotel Le Clos Notre Dame is located in the heart of Paris. Easily accessible, the hotel is close to many metro and RER lines:
Saint Michel (Metro line 4),
Odeon (Metro ligne 4 et 10),
Cluny la Sorbonne (Metro line 10),
Saint Michel – Notre Dame (RER lines B et C)
---
Getting to the hotel Clos Notre Dame from the Place Saint Michel: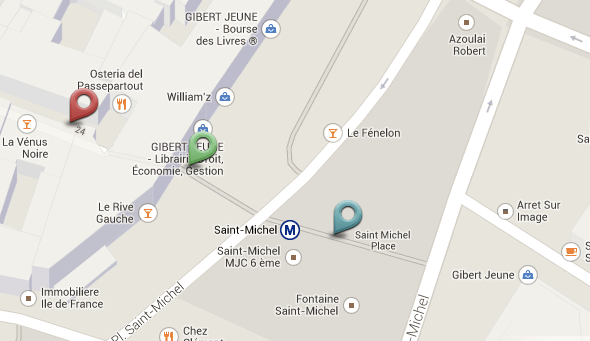 Facing the Fontaine Saint Michel, turn right towards the café "Le Rive Gauche"

Take the passage to the stairs at the number 6 Place Saint Michel

Continue for a few meters to the Hotel Le Clos Notre Dame
Avoid any steps coming from the Airport with the RER B:
On the RER B platform, take the exit N°6 "rue Xavier Privas" this is a specific exit with an elevator which goes straight onto the street. Leaving the elevator go left then first street on your right and straight onto Place Saint Michel. Cross the place Saint Michel, leave the fountain on your left and pass under the arcade and you'll see the Hotel.
Parking can be found at just 6 minutes walk from the hotel, the parking "Notre Dame" welcomes you 7/24 (more information here).
---
How to access the hotel :
From the Airport Roissy Charles de Gaulle
RER – B – To : Massy-Palaiseau
Start : Aeroport Charles de Gaulle 1
Stop : Saint-Michel Notre-Dame

From Orly Airport
Line ORV – To : Antony
Start : Aéroport d'Orly
Stop : Antony
RER – B – To : Aéroport Charles de Gaulle
Stop : Saint-Michel Notre-Dame

---
From the Montparnasse Train station :
Metro – M4 – Tp : Porte de Clignancourt
Start : Montparnasse – Bienvenue
Stop : Saint-Michel

From Gare du Nord Station :
Metro – M4 – To : Porte d'Orléans
Start : Gare du Nord
Stop : Saint-Michel

From the Gare de Lyon Station :
Metro – M14 – To : Saint-Lazare
Start : Gare de Lyon
Stop : Châtelet
Change to Metro – M4 – To : Porte d'Orléans
Start : Châtelet
Stop : Saint-Michel

From the Gare de l'Est station:
Metro – M4 – To : Porte d'Orléans
Start : Gare de l'Est
Stop : Saint-Michel

From the Gare d'Austerlitz station :
Train – RER C – To : Versailles – Château / Saint-Quentin / Chaville – Vélizy / Pontoise
Start : Gare d'Austerlitz
Stop : Saint-Michel – Notre-Dame
ou
Metro – M10 – To : Boulogne – Pont de Saint-Cloud
Start : Gare d'Austerlitz
Stop : Cluny – La Sorbonne